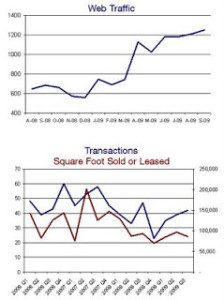 In the book "Who Moved My Cheese", after finding the new location for cheese and giving up on convincing his friend to leave the old location, one of the things the main character writes on the wall in the maze for his friend is "Change Happens: They keep moving the cheese".
With increasing vacancies and falling lease rates, many of you have asked where the tenants and buyers have gone. A couple of years ago it was easy to dispose of properties: put up a sign and they came out of the woodwork. Today, there are still existing businesses and entrepreneurs who need space to open, relocate, or expand their business – the challenge is to find them. Tenants and buyers have changed their decision making process: they do more work up front, they are more selective, they are more patient, and they have more options.
Year-to-date, the number of deals and the overall activity at NAI continue to improve. The fourth quarter of 2008 represented a low-point in transaction volumes as a result of the fear of economic collapse and political uncertainty. Since then, our marketing strategy has been adjusted to be much more aggressive in an effort to generate more exposure for our listings. Our direct mail activities have increased, our email campaign has been overhauled, and we have added a blog and property videos to our website. There are good indications it is working. Our web traffic has doubled (see chart) and our property videos have been viewed over 800 times in just three weeks.
In spite of challenging market conditions, NAI is doing deals. We have closed over 40 transactions this quarter, consisting of nearly 100,000 square feet. While this represents nearly the same pace of transactions relative to 2006, the number of square feet absorbed is about 70% of the 2006 pace and is not fast enough to reduce current inventories—yet.
Change has happened and will continue to happen in our market and in our community. We are optimistic that when the next big changes occur, they will be moving our economy toward a recovery.
Written by Neil Walter October 1st 2009