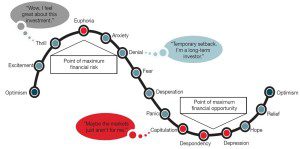 Confidence among consumers and investors is the single most important factor in determining economic conditions. At the root of confidence is uncertainty. As uncertainty rises, confidence falls and vice versa. To illustrate, over the past 18 months confidence fell as economic uncertainty overwhelmed falling commodity prices and the government's best effort to stimulate the economy.
As the likelihood of imminent global meltdown began to recede, individuals and businesses began to determine the economy wouldn't likely get worse and they slowly started to look for opportunities. The reduction in pessimism resulted in rising consumer confidence numbers followed by improving reports from housing, the bond markets, the stock market, and spending by consumers and businesses. Nationally, the collective wisdom is that the recession has ended and the new cycle is focusing on the strength and shape of the recovery.
Many will try and take credit for ending the recession, but entrepreneurship, initiative, and hope are the real stimulus package, not government programs. Many in communities across the nation have decided that if they can't find a job, they will start their own business or help their company become profitable again. These individuals aren't content to wait for the government to fix the economy. Their plan is to generate economic activity through hard work and innovation.
Evidence that these real stimulus efforts make a difference is reflected in the metrics. Some have turned a soured housing market into a buying opportunity. Many bought distressed stocks this spring and have seen their portfolio values recover some of the painful losses. The bond markets are coming back to life with new liquidity and falling yield spreads. The final nail in the coffin of the recent recession will be the return to job growth.
Because commercial real estate lags the broader economy, concerns linger about defaults and weakness in the commercial real estate debt markets. While commercial markets in 2010 will have some unwelcome similarities to the residential markets of 2009, a growing economy will blunt some of the downside as consumers spend more, businesses start to recover, and tenants and property owners are in a better position to meet their financial obligations once again. As a result, we expect 2010 to be a workout year with absorption coming in 2011.
As we've said in the past, we believe in Southern Utah, its resilience, and the resourcefulness of the community. We believe it is a great place to work, play, and raise a family. Just a few years ago, no one could go wrong buying real estate because of the upside. Just a few years from now, we will probably be saying the same thing. There will be more challenging months ahead but, for many, the next twelve months will be the point of maximum financial opportunity for buyers and tenants.