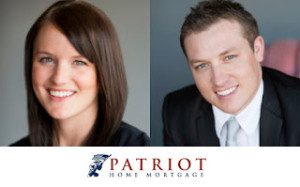 Patriot Home Mortgage opened a satellite office for the Staples Group Lending Team.  They will be in the Boulevard Office Park located at 221 E St George Blvd in the Central Business District.  Patriot Home Mortgage is headquartered in St. George and has grown quickly and has offices in over 10 states.  The company's headquarters are located on Riverside Drive.  Patriot is committed to quality customer service- "putting the people we serve first".
Brandon and Becky Staples head up the Staples Group.  Becky loves to help her clients find the best solution for their financing needs. She has been working in various capacities in the industry since 2006, which gives her an eye for detail when it comes to your loan. Becky's clients have come to know for her attention to detail, as well as for her responsive customer service, integrity, availability, and fun, positive attitude. She graduated as valedictorian of her class with a Bachelors of Science in Finance.
Brandon is goal-oriented and a tenacious learner, adept at problem solving. He is fully committed to providing his borrowers with the information key to helping them make informed decisions. With Brandon, you can count on a lending experience based on honesty, integrity, and the surety that he is looking out for your best interests. Brandon can help you purchase your first home, refinance your existing one, or help you with a reverse mortgage. His dedication to collaboration with his clients and lenders provides for a great purchase, reverse, or refinance experience.
Abraham Thiombiano with NAI Utah Southrepresented Patriot Home Mortgage and Jon Walter with NAI Utah South represented the landlord in this transaction.