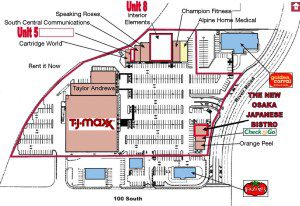 Brandon Vandermyde and Wes Davis of NAI Utah South assisted the 1,820 SF Osaka Japanese Bistro in opening their first St. George location. The Osaka will replace the former Gandolfo restaurant located near TJ Max in the Sandstone Village Shopping center at 42 South River Road, Suite 11, in St. George, Utah.
The Osaka hired Kyle and Riley Richardson of Richardson Homes to do some extensive remodeling of the space and plan to open doors in early May of 2009. Ilun Chen, the owner of the Osaka Japanese Bistro, has been in the restaurant industry for several years.
To search our retail inventory or request a hotsheet, please click here.