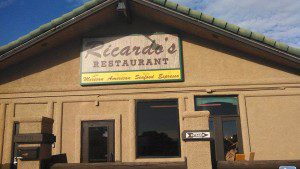 St. George, Utah – Ricardo's Restaurant, located at 1110 South Bluff Street in the old Claim Jumper building.  Ricardo's originated in Price, Utah where it has been a local favorite for over 25 years and has now opened a new location in St George.
Ricardo's is known for the large menu variety.  They open at 7am serving breakfast, lunch and dinner until 10pm.  Authentic Mexican dishes are Ricardo's specialty along with many other American and Seafood options.
Ricardo's also offers some of the best coffee in town.  Freshly roasted espresso beans are used to brew up Latte's, Cappuccino's, Mocha's and more! This is the only place in town you can choose from 35 different flavoring options to add to your beverage.
Within Ricardo's is a full-service bar and big screen TV's.
Come give Ricardo's a try.  You will love the comfortable atmosphere, well trained and friendly staff, and most important – excellent food! Curren Christensen of NAI Utah South represented Ricardo's in acquiring their new St. George location.