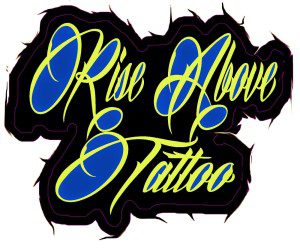 Rise Above is a tattoo shop owned and operated by Dennis Ours.  Founded n 2011, he opened Rise Above in Lancaster, CA.  With multiple talented artists, he moved to St. George, Utah in 2013 to open a second Rise Above shop.

It did not come easy as he waited and waited for a good location to come available.  With the assistance of Meeja McAllister of NAI Utah South, Rise Above soon found a home at 344 E Sunland Dr., Suite #5 in St. George, Utah. The shop is Clean & Professional.

Dennis and his artists are all certified thru the Utah Health Department, blood-borne and air-borne, as well as OSHA.

He and his artists specialize in american traditional, black and grey, fine line and bold line tattoo styles.  They always accept walk-ins and are open Mon-Sat from 1pm to 9pm.

The shop is a friendly environment, no drama and no ROCKSTAR altitude.  Everyone who walks thru those doors to get tattooed, will feel welcome, no matter what. Every tattoo that comes out of Rise Above has 125% put into it.  Every tattoo is a one of a kind.  
Come visit Rise Above and get some quality tattoo work done.  Please feel free to call them if you have any questions or to set up an appointment 435-628-2141.