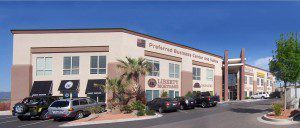 The Printhouse expands their corporate office to the Crossroad Center at McArthur Landing, located at 1224 South River Road in St. George, Utah. Lynn and Marie Madson have over 17 years of experience.
Lynn started screen printing for "Spectra Symbol" in Salt Lake City back in 1987. Upon moving to St. George, Lynn was the sole screen printer for many years at Hurst Screen Printing. After marrying, Lynn and Marie decided to open their own screen printing business in 1996. With Marie's education and background in business and marketing, Lynn's education in social sciences, they have proved to be an effective team. They have offered many years of quality service to schools, businesses, corporations, religious organizations, friends and relatives. Lynn and Marie are excited about their growth each year and attribute it to their quality customer service. They would like to thank everyone that has employed their skills through the years. They commit each day to provide you with a great experience as they "PRINT YOUR MEMORIES".
For more questions regarding Madsen's Printhouse in St. George, Utah:
Marie (435) 632-1511
Lynn (435) 632-9564
mailto:webmaster@theprinthouse.biz
http://www.theprinthouse.biz/
NAI Utah Southern Region, Wes Davis represented The Printhouse and Monty Bundy also of NAI represented McArthur Landing in this transaction.
To search our inventory or request a hotsheet for commercial property in southern Utah (retail, office, industrial, investment, land), please click here.