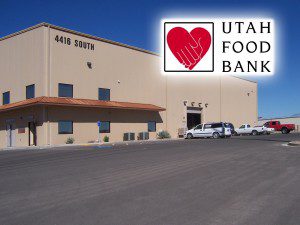 The Utah Food bank recently finalized a lease of 25,000 +/- SF in the Fort Pierce Industrial Park. Facilitating the transaction were Wes Davis from NAI Utah Southern Region representing the Landlord, and Jeremy Dickamore and Mike Farmer of Commerce Real Estate Solutions assisting the Tenant in site selection. The new facility is located at 4416 S River (Previously the Designer Furniture Gallery Warehouse) and will serve as the main hub for warehousing and distribution of goods to the Southern Utah area. This facility will provide jobs and added volunteer opportunities to the area and will also facilitate the gathering and distribution of food. Wes Davis indicates that there were other facilities in the running, but in the end this location was most feasible due to location, cost, and growth potential.
Utah Food Bank was founded in 1904 as the Salt Lake Charity Association. Over its 100 years of operation under various names and in various forms, Utah Food Bank has remained committed to serving Utah's citizens in need. Utah Food Bank staff, volunteers, and agencies work together to gather and distribute emergency food to individuals and families experiencing the pain of hunger in Utah. The organization started in 1904 and, since 1977, Utah Food Bank has been the central hub for food collection and distribution in Utah. Our resources include a large warehouse, four semi-tractors, and eight box trucks, as well as our valuable affiliation with Feeding America. With these resources, Utah Food Bank is able to collect, store, and distribute large quantities of food for the entire state of Utah.
To search our inventory or to request a Hotsheet of commercial property in Southern Utah, click here.