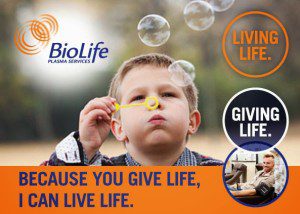 Construction has begun on the 2nd facility for BioLife Plasma Services. This state of the art facility is being built on Dixie Drive just south of the Albertsons Shopping Center on Sunset Blvd.  BioLife currently has a facility located at 816 North 2860 East behind Costco.  R. Mark Walter of
NAI Utah South
represented the seller on the sale of this 3 acre site.
BioLife Plasma Services is an industry leader in the collection of high quality plasma that is processed into life-saving plasma-based therapies. BioLife operates and maintains numerous state-of-the-art plasma collection facilities throughout the United States and collects nearly 3 million liters of plasma per year.  Each BioLife center is a vital part of its community.  The donors not only contribute the source of these life-saving therapeutics, but also contribute to the commercial vitality of their immediate neighborhoods.
BioLife Plasma Services is part of Baxter Healthcare Corporation, the principal domestic operating subsidiary of Baxter International Inc.  Baxter International Inc., through its subsidiaries, develops, manufactures and markets products that save and sustain the lives of people with hemophilia, immune disorders, infectious diseases, kidney disease, trauma and other chronic medical conditions.  Baxter applies a unique combination of expertise in medical devices, pharmaceuticals and biotechnology to create products that advance patient care worldwide.