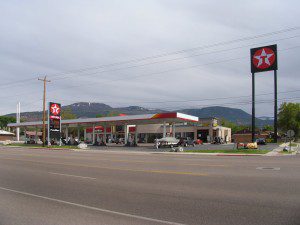 Flying J Auto Plaza located on 200 N in Cedar City off of Exit 59 was recently sold at the end of April to Singh Petro Inc. The 9,400 SF convenience store, with a Subway Restaurant inside, is a popular location for gas and groceries for SUU Students, locals, and freeway traffic. There is additional restaurant space on site that will be filled later this summer.
The renamed Cedar City Travel Plaza has rebranded from a Flying J to a Texaco consistent with the focus on retail customers, not 18-wheeler traffic. Jackson Oil will be supplying Texaco with Techron fuel, one of the most popular fuel brands in the Mountain West.
The new owners, Robbi and Suman Singh, are excited to be in the Cedar City market and most days Suman can be found in the store taking care of vendors and interacting with customers. Robbi is an experienced convenience store operator who owns two freeway interchange locations in St. George and two other convenience stores in Nevada.
Mountain America Federal Credit Union funded the project in conjunction with the United States Small Business Administration. Ne
il Walter of NAI Utah Southern Region represented the buyer and the seller in the transaction.