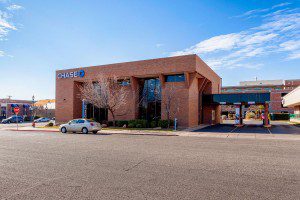 A local partnership acquired the Chase Bank building at 95 E Tabernacle in St George, UT. Chase Bank has a long term lease and will continue serving customers at this location as it has done for many years. Heritage Bank will occupy the upstairs for a couple more months until it winds down operations at this location. NAI Utah South is handling the property management and leasing of the property.
Jon Walter at NAI commented that the investment purchase was part of a long term strategy that sees continued growth downtown. Within the last year or so more than a half dozen buildings downtown have undergone renovations. State, city, and county governments have increased investment downtown in recent years with the new town square, courthouse, library, and several other buildings. St George City completed the renovation of the Electric Theatre in 2015 and the County is completing a feasibility study to the replace the county office buildings.
Walter continued "With the growth in St George, the downtown will continue to be a desired destination for business, arts, and recreation." The partnership plans to lease out the second floor and make changes as necessary to accommodate new business. The Walter Group at NAI including Jon, Mark, and Neil Walter were involved in the transaction.