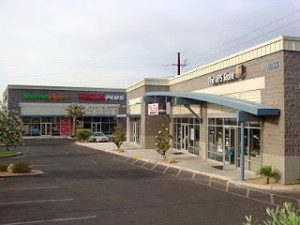 Mathew Chappell of NAI Utah Southern Region was recently responsible for bringing the national franchise company Fast Signs to the larger St. George area. With their corporate offices in Dallas Texas, Fast Signs has over 550 independently owned retail locations and has been in operation since 1986. The continued success of Fast Signs is attributed to the company's ability t
o produce a sign in a very short amount of time. Fast Signs specializes in making large banners, signs for real estate and homes for sale, wood and vinyl signs. The company also has the capability to produce large posters, graphics, maps, and architectural drawings with its 54" printer.
Fast Signs is located at 1055 E. Red Cliffs Drive #4 in Palm Square next to the Albertson's Shopping Center in Washington. Kelly Harward, Loa, UT owns and operates the local Fast Signs franchise. Plans are underway for a grand opening in the middle of March 2010. Neil Walter of NAI Utah Southern Region represented the Landlord in the transaction.
To search our inventory or request a hotsheet for commercial property in southern Utah (retail, office, industrial, investment, land), please click here.