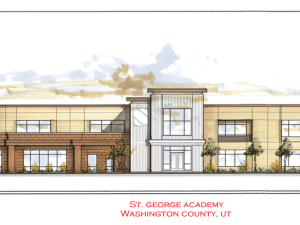 American Charter Development, on behalf of St. George Academy, recently acquired land for the newest charter school in Southern Utah. St. George Academy is a charter high schools serving grades 9-12 with a college preparatory emphasis. Through a cooperative relationship with American Charter Development, it's financing partners, and a unique transaction structure, the school will realize some of the most attractive terms offered to stand-alone charter schools.
St. George Academy will open in August 2016 and is now enrolling students. For more information, visit their website at www.stgacademy.org. American Charter Development is real estate developer specializing in charter school facilities. While headquartered in Utah, the firm is actively building schools in the Intermountain west and across the southeastern United States. For more information, visit their website at www.amercd.com.
St. George Academy was also featured in this St. George Spectrum article.
Neil Walter with NAI Excel facilitated the development lease and the land acquisition.